Information window - press J or ? to to open,
ESC
to close
Image Size

*

0 1 5 10 12

buttons on top of page represent photo heights of:

40px 133px 500px 1000px and 1200px

* There are 3 modes of display (

Z

) for a single photo:

1)normal, 2)background stretch, and 3)height or width stretch

Navigation - single photo

* Click mouse in left/right part of the screen

* Use +/- 5 10 20 50 buttons to skip forward/backward

* Use right/left keyboard arrow keys

* Use keyboard keys eg

N

=New Photos,

A

=Arizona
Settings window -
ESC
to close
A week in Arizona/Utah

- with Ola's pictures - [second draft: 2004-07-26, 4:55pm]
2004/06/27 - 2004/07/04
| | | |
| --- | --- | --- |
| .First Posted: July 5, 2004. | --- | |

** Arizona/Utah FLIP **

** All Pictures FLIP ** new **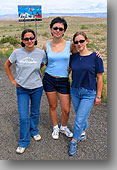 Grand Canyon and Las Vegas were on the mind of my 3 angels -- Aneta (Sugar), Ewka and Ola. And they got to experience Grand Canyon the right way, made it to Las Vegas (though without me) and together we saw Arches National Park, Monument Valley, Lake Powell and Bryce National Park. Our week long trip covered 2,400miles.
---
| | | |
| --- | --- | --- |
| Day 1 | | Denver, CO... Arches, Utah ... Recapture, Utah |

We left at crazy 4am, since our target night stop was over 600miles away, and there were things to see along the way too -- like Monument Valley. The daybreak came before 5am and the sun painted the rolling hills and mountains with beautiful soft light. Our 2 cars chugged happily up the constant uphill on I-70 heading towards Utah. It sure felt nice to floor a V8 on the uphills
.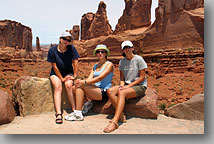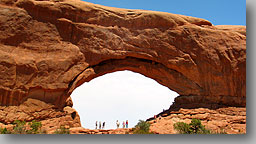 We passed Grand Junction at 9:30am -- the little red Subaru looked cute, but has been struggling up the big hills. My black beast was making circles around it. Colorado ended and we entered Utah. We wanted to see Arches or Canyonlands and since Canyonlands was 25miles off the highway, we only visited Arches. We stopped 10 times after the entrance, but the best part was the huge arches themselves at the end of park.

After Moab I was driving at the front, anticipating Recapture and wanting to stop there. I knew we were close. Then suddenly Ola was passing me on the left -- noooooo. And of course only 20 seconds later i saw the sign for Recapture. It was Ola's great idea to stay the night. She and I were the only brave souls to jump into the cool lake at 6,061ft elevation. It was a shock when i jumped in feet first -- i still have mostly Arizona blood in me
. We made fire that night in our own little private camp-spot. That's the way it should be -- the best campgrounds are free and people-free as well. We setup our 2 tents before dark. Before leaving Denver, I considered bringing my 7-year old 4-person tent in addition to my 2 person NorthFace tent. I dismissed it with plans of tentless camping. But there were times throughout the trip when I wished I brought it ;-).
---
| | | |
| --- | --- | --- |
| Day 2 | | Monument Valley ... Lake Powell |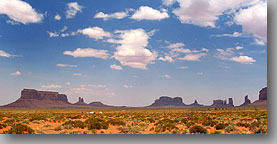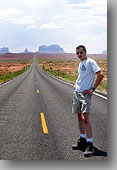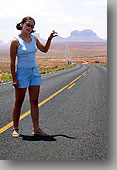 I was up first, and then Ewka got up. I sneaked into Ewka's empty spot in the middle of the tent. When Ola and Aneta first opened their eyes, the first thing they saw was my grinning face. Ola drove with me as we stopped just 1 minute after leaving, for lake pictures from the road level. Ewka and Aneta blew past us without stopping. I had no idea that we won't see them for the next 10 hours.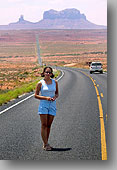 After 30 miles of chasing we decided that they were not in front of us, and after waiting we returned to the possibly confusing spot only a few miles from our lake. We constantly looked for red cars during the 27 miles back. We couldn't reach them on the cellphone because they were out of range. We never made contact and finally knew that they are not lost or waiting behind us. By the time we reached Monument Valley we heard a voicemail from them. They were ahead of us, at least by half an hour -- but that's a lot of time to make up in pursuit. We stopped for pictures of monuments and goats too and after eating we were in pursuit again. I missed the turn to Page just after Kayenta. I realized it 30miles later and then it was the same distance to keep driving and take the next right turn. We met the girls in Page, bought firewood and food, and headed to Lake Powell just 12 miles away.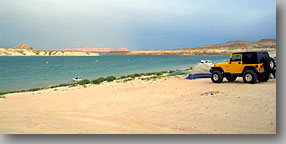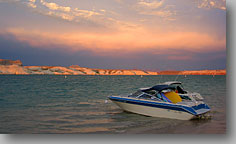 We all arrived at Lone Rock (Lake Powell) just before sunset. I was driving my jeep in sometimes deep sand, and it was good Aneta's Subaru didn't follow all the time -- sometimes I didn't know how deep the sand was until I was inside of it, and then i needed 4x4. We played in the water in our shorts, throwing a ball. The water was surprisingly warm but not enough to tempt us to swim. And then I saw a most beautiful sunset with orange and red and blue. It wasn't just in a little area like in the mountains, but it covered the whole horizon. My camera was resting in the car 60 yards away, and for once I decided that it's ok. It was too much fun playing in the water to stop. Sometimes a picture is just a picture. Even if it's the most memorable one of the whole trip. No regrets.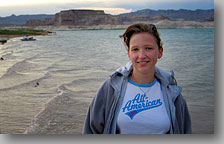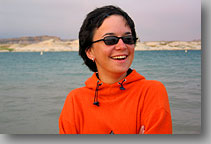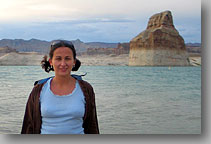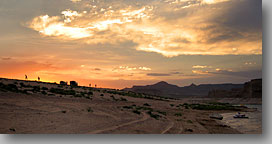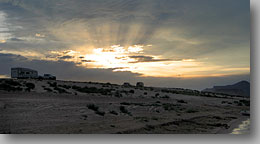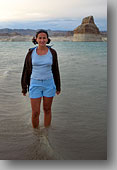 We cooked fish in the campfire and then I took a chance sleeping without a tent. The angry skies were not just a tease, but throughout the night the rain was limited to just 2 times of 5 minutes each. I just pulled a cover over my sleeping bag without opening my eyes and I was fine
. The girls slept happily in their tent.
---
| | | |
| --- | --- | --- |
| Day 3 | | Lake Powell, Utah to Grand Canyon, Arizona |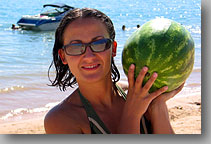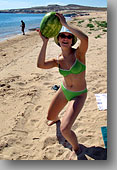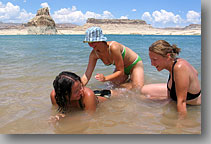 We played in the sun in the morning, ate a watermelon (another great idea by Ola ;-) from the day before), and time flew by. I was using my SPF 100 sunscreen (old school European bed sheet), preferring to suntan by accident rather than on purpose. 60mile cycling -- now that's my idea of suntanning with SPF 45 on as well :-). Finally I gave in since Sugar offered to use her skilled hands to apply the sunscreen
. They even tempted me with a spot in tent if i turned brown by the end of the day. More watermelon, some addictive junk-food potato chips, then we showered at an outdoors shower... and yeeeeeeehaaaaa to Grand Canyon.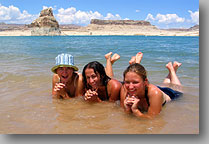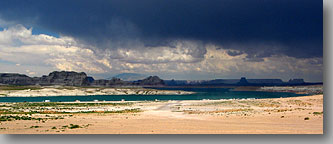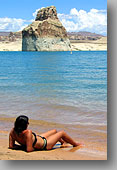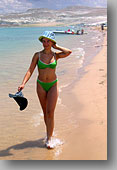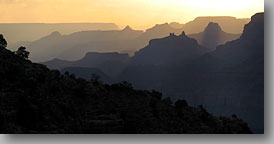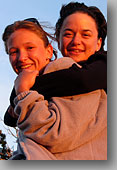 When we arrived in Grand Canyon (South Rim), the sun was setting and though the wind was blowing at 7,000ft, the 3 supermodels hung in tough. I pulled out Black&White film for the first time on the trip -- it seemed appropriate. The campground had a "Campground Full" sign, but we knew better. Spot #13 was free and it was already 10pm -- nobody could have it booked and still arrive now, not #13. And so it became our camp-spot.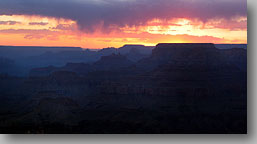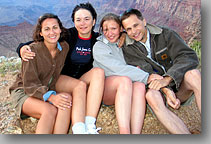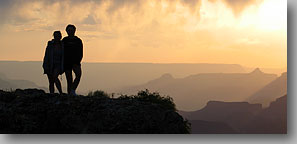 ---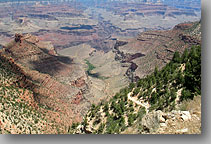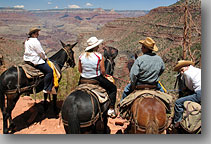 It was Aneta's dream to come to Grand Canyon. It was probably the same for the other 2 angels -- it is one of the 7 wonders of the world afterall. I came mostly for the company, hoping for a night-time uphill struggle while running out of breath. And of course daytime pictures. I hiked on Bright Angel trail and South Kaibab trail before
( see
• 2001-08-19_Monsoon in Grand Canyon )
, but today's adventure was the best of them all.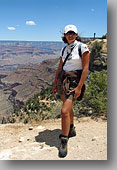 It was almost 1pm when we started on Bright Angel Trail. Getting up late, packing, eating, the shooower -- and yet 1pm probably was the best time to start. Not according to the ranger who stopped us after an hour of hiking -- he "recommended" not going past the 2mile mark. Riiiiiiight. Something about the bare shoulders and shorts of 3 girls walking side by side -- but at least my angels had hiking boots, not flops on bare feet. We met a family earlier, about 15minutes down. They were all wearing matching flops and only came to get a "Grand Canyon family picture for Christmas Cards" -- and 1 digital picture was all they needed, taken by a willing stranger -- Ola. They rushed uphill after the first click of the shutter.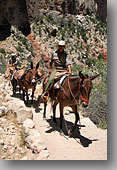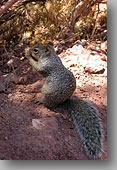 Actually only Aneta had bare shoulders and welcomed the idea of Ola's shirt to cover them. I had my standard desert wear -- all covered, starting with long loose shirt, long pants and a round hat. If you don't respect the sun, you pay. Sometimes the red burning skin is not too bad, but it's not a price i am willing to pay -- not in the desert. I prefer to wear my shade. Our target was the Plateau from which the bottom of Grand Canyon could be seen. To reach the bottom required another 4hours.. and then there would be the brutally long 8h+ uphill. The angels were small but there were 3 of them -- i couldn't carry all of them.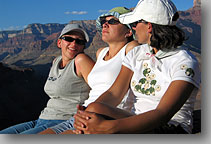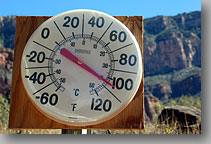 Indian Gardens was a great spot to eat at, and i instigated the idea. We even had benches to sit on. Amazing how good freshly made bagel sandwiches with cream cheese felt, and with 4 pairs of hands helping all was done in no-time. Cucumbers, green peppers, tomatos and eggs -- we had it all. Half an hour later we arrived at Plateau. Very nice view of the canyon walls and the river below. It was a good time of day for pictures too. We spent an hour there, and I wished we stayed for sunset, but i wasn't pushing for it. It was late already and the uphill was supposed to last over 4hours.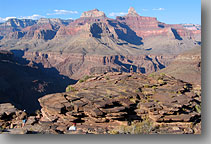 Ewka and Ola took the front and put on a military pace. Aneta and I dropped 100 yards back but our pace was close to theirs. When we arrived in Indian Gardens, we met a young group of 4, resting and wondering if they can sleep somewhere better. They had overnight gear -- something we wished we had now too. We headed uphill at 9pm in the same formation as before. Sometimes we saw the duo at the front, sometimes we heard them in the twilight of the approaching night. They kept the brutal pace, hoping to outrun the night. My body was saying "when do we eat, when do we eat?". I found apple sauce cups in Aneta'as backpack, and that delayed by hunger. I knew the inevitable though, and when we arrived at the 3miles-to-go mark, I asked for bagels and cream cheese from Ewka. I wanted to suggest eating as a group because the tough uphill was still to come and it was 3 miles long. I didn't think my advice would be welcome, so i didn't offer it -- "quick and dirty" was not the way to go, but some people need to learn from mistakes. I offered my headlamp to Ewka -- even if i could see better without the headlamp, flashlights sometimes give people peace of mind.

I lasted maybe 5 minutes before i pulled the bagels and cream cheese from my backpack. I walked with a plastic container with vegetables and ate on the go. Eating now was the only way to keep close to their pace. Personally I prefer a lazier though "go forever without stopping" pace, but I was ok with their assault pace -- let's see how things turn out. Aneta took the lead with Ewka. The fast pace was now taking a toll on Ola who dropped to the back. She walked just ahead of me. Not too long after i finished eating, i had energy for 2, but I kept Ola company in the back. After another mile Ola finally let me take her little backpack and the four of us even rested at 1.5miles-to-go mark.

I have been singing for a while and wanting to carry all of their backpacks. I had the energy and motivation to do it. They didn't take advantage of my offer, maybe thinking that my singing would stop if i was loaded with 4 backpacks. Finally they wanted to stop to eat something because they were starving. Just a quick 3 minute break for apples and other fruits. We kept going as a group now. The leaders were sweating and had nothing more than t-shirts on top. The wind felt colder since the night progressed and we have been going higher and higher. When the wind became more frequent, i put my 2 ponchos on Aneta and Ewka -- just loosely as windbreakers. Ola and I had long-sleeved shirts. We have made 4miles since Indian Gardens, and we could see the top already. But is it the real top? At 4.5 miles i said "just 10 more minutes". And 10minutes later the same forecast was about right. The wind was blowing at the top, not constantly and not more than 20mph, but we felt cold.

We reached the summit at 12:20am, after 3h 20minutes since Indian Gardens. It sure was a result of the brutal pace and few stops. I enjoyed it immensely, but the rest of the gang could have been more comfortable if they were willing to listen. But some lessons are best learned on own skin. A group photo would have perfected our adventure, but i settled for a photo of me :-). Our little adventure lasted nearly 12 hours since our departure at 12:55pm. It's the things you shouldn't do that memories are made of.
---
| | | |
| --- | --- | --- |
| Day 5 | | Grand Canyon ... Flagstaff ... Sedona (me) / Las Vegas (they) |

Getting up late was justified, but all of us still got up at 9am. And that included a foot massage in the tent, compliments of yours truly. I never seek massages other than from my own hands, but the female body is a much more sensitive instrument



. We headed for showers which were already closed the previous night. When we returned to our campsite, our trash-bag was in 100 pieces -- compliments of our neighbourhood crows.

We stopped halfway to Flagstaff at a place with wigwams (Indian tents -- what's the difference between a teepee and a wigwam?). I thought Ola would like to take pictures, but instead the gang stormed the store withan initial plan of sending postcards. I put some water and ice on my feet -- just 24 hours to recover, boys. There was a chance my tomorrow's Brasilian date had hiking ideas. Oh yeah, the angels approved of Erica whom i wanted to meet while they went to Vegas. I wasn't motivated for Vegas -- no money and no honey :-). My feet got all the ice they could melt and then i went inside the souvenir store. I picked up"the colt that won the west" and thought about the poor Indians. One of the angels saw the gun in my hand and suddenly they were done.

In Flagstaff we walked for 10 minutes in the old town, then ate, and they were gone. It sucked to be alone now, after 4 days with them. Sedona was on my mind, and that's where i headed. 10 miles out of town, and 10miles into the dirt. I was speeding at 40mph on a dirt road and then were was a Cherokee in front of me. I was behind him for 3 minutes and finally a spot to pass him, leaving him in the dust, literally. I had to go!!!! Just before my secret camp-spot, the bad road felt pretty bad right at start -- good, keeps the tourists away. Then i couldn't find my spot!!! I got out, walked on foot, nothing. I drove down then back up... where is it? I was very happy to find it uphill from where I initially looked. Hopefully those thumps were just rocks hitting skid plates on my car. I made a campfire in the peaceful solitude of the night, and then i went to sleep without a tent -- the best way to camp in Arizona/Utah/California (if you know the neighbourhood to be scorpion-free and bad-guys free).
---
| | | |
| --- | --- | --- |
| Day 6 | | Sedona, Arizona to Lake Powell, Utah |

I woke up around 7am, or was that 8am? And was that Arizona time or Colorado time? I drove to Sycamore Trail, after a couple scary offroad spots but no more rock scraping like previous day -- why does it always feel like the jeep will tip? I never tipped either of my jeeps, but would be nice to know what the limits are :-). I didn't stop in city of Sedona, I just headed on the scenic route to Flagstaff. Just one spot caught my eye, looking down at a bend in road with cliff wall on one side. Flagstaff too was of no interest to me now, but then those Snowbowl horses... Humphrey's peak was in the background, and somehow when i ended with them it looked like i was out of time for my 3:30pm date. And the girls called while i was playing with horses, and now i called them back and... and... I was 20minutes late for my date in Grand Canyon, inspite of speeding at 95mph and passing everything with wheels. She wasn't there, and i strolled the hood for almost an hour and nothing. Wait a tick, that means I'm single again.... yeah baby, yeahhhhhh!

So i could meet the girls now for sure. Except that they had a little delay that stopped them from leaving all day, and when I arrived at Lake Powell 3hours later (after stopping in Page, and photographing sunset at Lake Powell), they only barely left Vegas. I was turned off by that mostly, along with with not knowing where to meet them exactly in Zion, where to sleep, when they would arrive, and their inability to call my cell-phone (i had to keep calling them). Plus, do you know how hard it is to leave Lake Powell once you lie your butt down in the warm sand just after sunset? Desert baby, yeahhhhhh. I opted for the campfire free option, and i lied in the dark watching my stuckup Lexus RX-300 neighbors. I photographed their silhouttes lit only by their campfire -- 1.5 second exposures, 3 second exposures. Good things happen sometimes during experiments like these -- the potential for nice pictures was there.
---
| | | |
| --- | --- | --- |
| Day 7 | | Lake Powell ... Bryce Canyon, Utah |

I was up at 4:47am, and ready for pictures -- 4:47am Colorado/Utah time. Or maybe 5:47am Colorado/Utah time, which would be 4:47am Arizona time. Well, i was up early. Before 8am i was out the camp too, heading for the Marina area, with scenic views of Lake Powell. I found 2 great spots, one far above the water with occasional boats approaching me (and the Glen Canyon Damn). The other spot was at the lake's bottleneck -- the boats had to get pretty close to me, and the blue sky was right behind them. I took a lot of pictures -- maybe 6 rolls total and by 9:30am i was out of film. Good, because the good light was gone anyway :-) (10am til 2pm is generally not a good time for pictures).

I got more film in Page, and after a 10minute non-stop swim in Lake Powell, I was going to head out to Bryce Canyon. Well, i started chatting with John and Bill, and though they were 70 and 65 years old, we had stuff to talk about -- Lake Powell. "I've never seen the water level that low before. See that crevass over at Lone Rock? That's where the water level should be." Each of them brought a big RV camper from Los Angeles, and Bill also brought his kids and grandkids. Eventually I was on my way, but not in time to get to Bryce by noon. And did Ola mean noon Vegas/Arizona time, or noon Utah/Colorado time? I joked with her: "ok then i'll expect you around 2pm there".

I was in a hurry and passed everything moving again. The wind was crazy at times... ok so maybe i kept my front windows 100% open as usual, that might have added to the crazy wind effect. I was in Bryce Canyon at 3pm Colorado time (2pm Vegas time). Finally after calling them 20 times, and leaving 2 voicemails i could hear Sugar's voice on the other end. They were still in Zion and couldn't leave for a while... "Are you upset, Robert?" I wasn't, i honestly wasn't, I just wanted to see the angels at this point. I thought maybe they have come to Bryce and left already. I did previously question the rationality of driving 150miles to Bryce, meeting them for 1 hour, then driving 150miles back to Lake Powell... because after Bryce they were heading back while i still had 2 full days before needing to turn home. But now i just wanted to see them; in Bryce Canyon. I have been there for the past hour taking great pictures of magical scenery, and just wishing for some company with me (though best scenery pictures I could take alone, it's not a path i desire).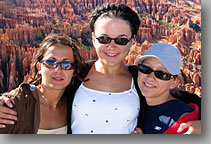 I told them to meet me at Bryce Point. This was one of many "Points", but since it was named after the canyon, it must be good. It was the first Point i headed to, and stayed until angels came. We spent an hour together and then they had to go. No kidding, 7pm already and 600 to 700miles ahead of them to Denver. They had some commitments for 4th of July activities, but now they would prefer to stay another day or two.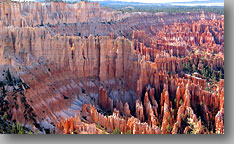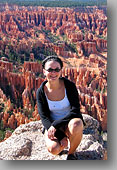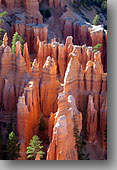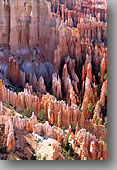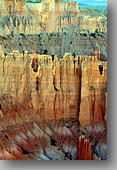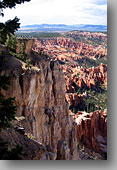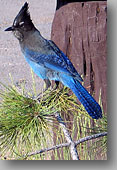 Hesitantly i headed to Lake Powell to sleep. Driving to Denver now was too crazy, i could only last for 2 hours driving and then need to sleep... even with one of the girls driving my car, it wasn't the right thing to do. I was in Kanab, a halfway point, when I got a cop on my tail. He followed me forever and even driving under speed limit didn't shake him off. And then his lights suddenly went on and he was making a U-turn. He didn't need me as a shield, the night came already... but he caught someone speeding in the oncoming traffic. He should have seen me speeding that morning, whatever this guy was doing, i was going faster than that :-).
---
| | | |
| --- | --- | --- |
| Day 8 | | Lake Powell via Bryce to Denver, CO |

I wasn't in the mood for pictures in the morning, and i stayed in my sleeping bag until 8am. or 7am. Ok, 8am Colorado/Utah time. Pictures were not on my mind, and i didn't even take a picture of John or Bill at all... my mind just wasn't there. I kind of wanted to return to Denver, and kind of I didn't, i just didn't want to be where i was and i didn't know where i wanted to be. Maybe stop somewhere along the way... oh and definately go in the direction as the girls went -- along I-89 then I-70 -- a totally new frontier I have not gone in that direction before. Who knows what awaits. I saw Lamas and horses the previous day, and now they might be my subjects. And those cows with big horns too.

The lamas were too far from fence and the spot wasn't the best, but then i drove by the horned cows. Cool. Crossing the river in my sandals, socks and long pants didn't seem like a bad idea -- better than barefoot. Oh the socks in sandals? I still had my pyjama top, light gray with green cuffs and neck circle.. the socks were just a finishing touch. And the socks were a first step to putting my hiking boots on, for desert walking when taking pictures. If you ever walked in real desert, you know that sandals don't protect your feet from cactus at all. (Bushes, needles, thistles, stuff on the ground... it's all cactus) So it all makes sense, see? Case closed.

The cowards kept on moving, none of them would pose for me. (Isn't coward derived from "cow"?) Or they would pose but with wrong background -- the gray bushes just don't do it for me. And then these 2 youngers with little horns just stood there looking at me, only feet away. Okkk if these guys start charging I'm in trouble. Go, go... woof woof. So it was actually good when the cows were moving, at least they're not stirring dust with hoofs and ready to start chasing me. Those big boys sure looked nice though, huge horns and gray bodies... photo material. I took some pictures, wished for certain setups but couldn't achieve them... it's hard to do alone. With 2 people, one can chase and the other sit and harvest the pictures :-).

I saw the horses just for a fraction of a second while driving, but i could make out that two baby horses were lying on the ground. And a great spot for pictures too. I was in heaven, there were 3 baby horses and a bunch of big horses. Pretty soon the baby horses were next to their mothers -- so it's 3 mothers with one baby horse each. Interesting. They were much easier to work with and posed in unique formations, sometimes just like a family portrait... sometimes with 1 trouble-maker showing his butt while 3 other horses posed. I took pictures of the horses on green grass with blue sky behind, closeup of 4 horses together.. mother and baby... baby only.... i almost ran out of new ideas.. but then i was out of film, so i just thanked my models and moved on. The big I-70 soon started which was good for speeding but not as good for scenery. All I had now left was Black&White film. It made me think differently of the pictures i wanted to take. I generally prefer to use Black&White film when it's overcast in cities/mountains, or sometimes for people (when I know the people will co-operate
. Night already set when I saw a fireworks show -- I was just approaching Rifle, Colorado. It felt like Rifle was celebrating my arrival. I was home just after midnight. Great trip. Really really great trip.
Total Trip Distance: 2,400 miles
#Pursue Passion#
| | | |
| --- | --- | --- |
| .First Posted: July 5, 2004. | --- | |
Notes: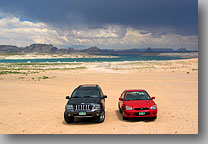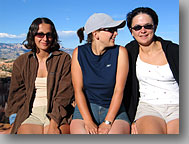 • All pictures here are from Ola's digital camera... mostly by Ola
• Next trip will be Yellowstone Park, Wyoming
• During a photo shoot at Independence Pass, Aneta said that "Baby" was confusing with all 3 girls in the picture -- that's when Sugar got her name.
• Arches Nat. Park is great, Zion is ok, but Bryce Nat. Park is the best -- see Bryce National Park if you can only see one park in Utah.
---
.my_adventures.2004-06-27-week-in-arizona-utah
52.91.185.49