Information window - press J or ? to to open,
ESC
to close
Image Size

*

0 1 5 10 12

buttons on top of page represent photo heights of:

40px 133px 500px 1000px and 1200px

* There are 3 modes of display (

Z

) for a single photo:

1)normal, 2)background stretch, and 3)height or width stretch

Navigation - single photo

* Click mouse in left/right part of the screen

* Use +/- 5 10 20 50 buttons to skip forward/backward

* Use right/left keyboard arrow keys

* Use keyboard keys eg

N

=New Photos,

A

=Arizona
Settings window -
ESC
to close
Mighty Mt Evans (Colorado)

- with Ola's pictures - [second draft: July 7, 2004, 12:07am]
2004/06/20
| | | |
| --- | --- | --- |
| .First Posted: June 22, 2004. | --- | |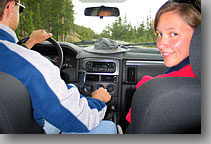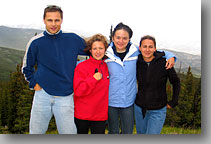 The threat of rain was in the air as we headed on a winding road towards Mt Evans. Just before the park entrance, it was quite windy at Echo Lake, elevation 10,600ft. A week earlier I came alone and the weather was perfect then for Echo Lake -- clouds filtering the sunlight made for great pictures (and my pictures better be great too since the sunlight was great
.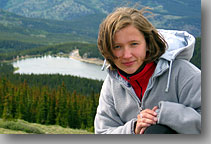 The road started to look scary at 11,000ft. From our lookout point we could see Echo Lake below. I got caught up in another "work with me baby... yeah" photo sessions, and next thing i knew my sunglasses were under my boots with one arm broken and the other badly bent. Now that was painful.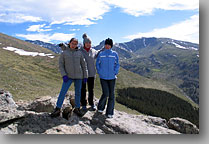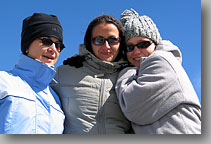 Another great stopping point was where i met Marmots a week ago. However, they were too busy to come today.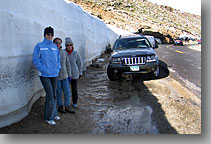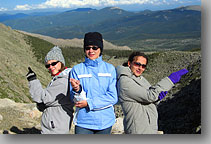 We couldn't just drive by the 8ft tall snowbanks. The snow stays year round, and is appearantly stable... or is it? From the other side of the road we saw some lake far below.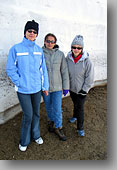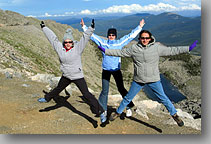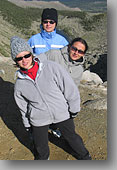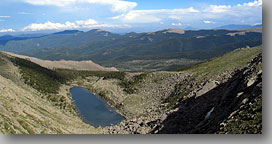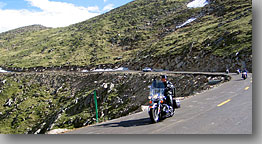 Looking for Mountain Goats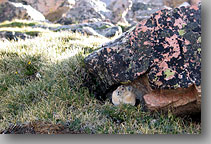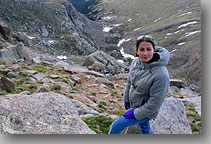 I only wanted to show Ola where i saw a mountain goat last time. If i would have known about what we were about to see, i would have brought my camera from the car. I lied on the ground and watched the clouds as Ola played with mountain goats not far away.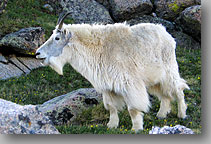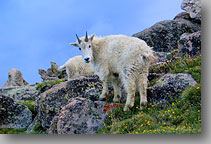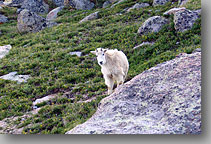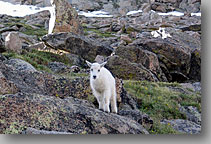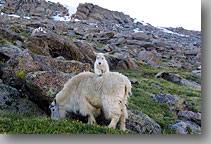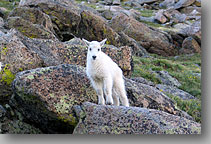 by the Summit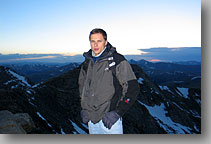 Ewka and Aneta didn't last long near the summit. The wind was blowing and they were not dressed for success. They descended quickly and waited out in the car as Ola and I hunted for pictures at the summit.

The GPS measured 4,359 meters at the summit -- The official height is 14,264ft.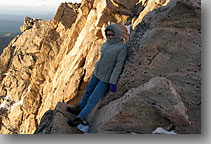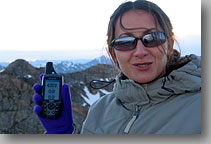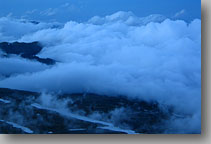 The day's driving statistics were:
| | | | | | | |
| --- | --- | --- | --- | --- | --- | --- |
| Distance: 141 miles | | Moving Time: 4h 4min | | Stopped Time: 6h 10min | | Moving Average: 34.6mph |
.........all pictures here are from Ola's digital camera ..... mostly by Ola .......
.......my pictures..........in September .........
#Pursue Passion#
| | | |
| --- | --- | --- |
| .First Posted: June 22, 2004. | --- | |
Notes:
• "When it comes to weekend I had great time!!!!! It was more than super."
.my_adventures.2004-06-20-mighty-mt-evans
52.91.185.49