Information window - press J or ? to to open,
ESC
to close
Image Size

*

0 1 5 10 12

buttons on top of page represent photo heights of:

40px 133px 500px 1000px and 1200px

* There are 3 modes of display (

Z

) for a single photo:

1)normal, 2)background stretch, and 3)height or width stretch

Navigation - single photo

* Click mouse in left/right part of the screen

* Use +/- 5 10 20 50 buttons to skip forward/backward

* Use right/left keyboard arrow keys

* Use keyboard keys eg

N

=New Photos,

A

=Arizona
Settings window -
ESC
to close
Uphill in 120 F - in search of water-holes (Superstitions)

- draft
2000/07/15 - 2000/07/16
| | | |
| --- | --- | --- |
| .First Posted: December 21, 2002. | --- | |

I was in Supersitions looking for a water-hole. Not any water-hole, but one listed in a book named "Day Trips with a Splash: Swimming Holes of the Southwest".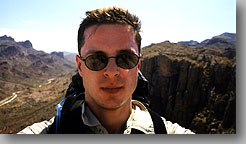 The face that tells the story..... at least to me. The first sips of water from the camelback were always hot. And spitting it seemed wasteful since i was low on water. And there wasn't much water in Jeep either. 3 gallons seemed ok for 2 days, but that wasn't enough. I had to find that water-hole and filter water from there.

It wasn't too challenging walking uphill, the only problem was the water. I had to drink it constantly. If i had something to cover the blue tube, just the part exposed to the sun... something white... next time. This was day 2 of looking for "Fish Creek", where the water hole was supposed to be. I didn't think the uphill walk was in the right direction, but I wanted to get a view from above. If it didn't help with navigating, at least i would see Superstitions from above.
...............to be continued..................
#Pursue Passion#
| | | |
| --- | --- | --- |
| .First Posted: December 21, 2002. | --- | |
.my_adventures.2000-07-15-uphill-in-120-f
52.91.185.49