Information window - press J or ? to to open,
ESC
to close
Image Size

*

0 1 5 10 12

buttons on top of page represent photo heights of:

40px 133px 500px 1000px and 1200px

* There are 3 modes of display (

Z

) for a single photo:

1)normal, 2)background stretch, and 3)height or width stretch

Navigation - single photo

* Click mouse in left/right part of the screen

* Use +/- 5 10 20 50 buttons to skip forward/backward

* Use right/left keyboard arrow keys

* Use keyboard keys eg

N

=New Photos,

A

=Arizona
Settings window -
ESC
to close
11 states in 8 days (Chicago-Phoenix)

- draft
1999/04/11 - 1999/04/18
| | | |
| --- | --- | --- |
| .First Posted: January 11, 2003. | --- | |

Once upon a time there were 7 good little cats..... but these are not them. These are: 1-boss, 2-athlete, 3-need love, 4-lazy, 5-shy, 6-baby and 7-spaz. They were with me and Christina, as we travelled many miles to sunny Phoenix.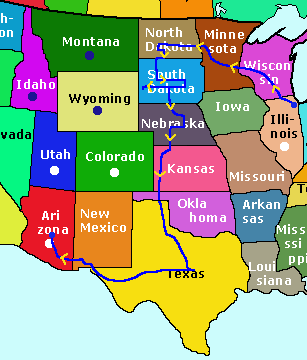 Christina was moving and i offered to come along for the cross-country trip. We had a week to spend and hpefully see a lot. Even though she had a 6ft by 12ft U-haul reserved, it wasn't available and we had to fit everything into a 5ft by 10ft trailer. The TV, couch, computer table, bookshelves, 2 guitars and almost everything fit, but the queen bed and computer chair didn't. They had to stay behind. The 7 cats fit into 4 carriages inside of her jeep.
---
Illinois .. Wisconsin .. Minnesota

We set out on I-94 on a Sunday morning and headed north-east. We wanted to see as many states as possible, and make spontaneous stops for interesting sights. We drove through Wisconsin and Minnesota, and spent the night in a motel in Minnesota, not far from North Dakota.
---
North Dakota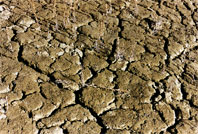 There was a duck-refuge area along the way, but otherwise nothing interesting. At night we found a motel in Bismark, North Dakota. The following morning we headed south. The land was barren -- rolling hills with little vegetation, and very little trafic. We did take little highways since Bismark, but seeing 2 cars per hour seemed low. The April winds and afternoon foggy skies added to the ghost-land feeling.
---
South Dakota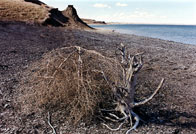 We entered South Dakota from the north, and after Faith, we started turning east. The landscape started to change, there was more grass now. We pulled over and walked to the lake. Just us two, the cats didn't get to stretch their legs.

First we wanted to go to Mount Rushmore, then we didn't, but after 2 wrong turns we were heading there -- so why not. The sights along I-94 going west were quite different. We were back around civilization -- the traffic, the road signs, the lifesize dinosaur figures... Mount Rushmore was cool. Lots of photo opportunities. Even before the entrance, there was a cool RV from Anchorage, Alaska.
---
Nebraska .. Kansas

We entered Nebraska at night and around 11pm went to eat. The locals recommended the Sand Dunes, which were kind-of along our way. We drove by the Dunes in the morning, but never turned from the main road -- time, time, time. In Kansas we were hauling at 80mph on a small 1-lane highway. We noticed the oncoming cop car too late. His red-blue-white flasshers went on when he got within feet of us -- but he never turned around. Phewwwwww.. We expected to see either him or another cop car from front or back -- but nothing. The sign on the U-haul trailer said "45mph max" -- the the first digit must be a misprint.
---
Oklahoma .. Texas

We only made a few miles through Oklahoma, and then we were in Texas. While getting gas at Perryton, we found out about the road flooding and possibly closed roads. We went to the sheriff's office -- and it was a bit like in the movies. Small town sheriff's office with a desk, his feet on it, and barred rooms in the background. I-83, the road we came in and kept going on was not closed, but they told us to watch out for water on the road. We left the little town, and were happily on our way. About half hour later, me at the wheel, i saw something strange on the road. It looked like sand was covering stretch of the road, about 100yards. It was water. And by the time i could stop, we were in the middle of it. Just before entering, i saw an oncoming car on this one-lane highway. It looked like we were totally submerged, the water was splashing so much. We might have been doing 60mph, and with the U-haul behind us we sure had a lot of momentum. We surfed through that water for about 30 seconds, not seeing a thing, water was everywhere. I just kept the steering wheel straight, didn't even try to brake -- i just took my foot off the pedal. Maybe there was 6 inches of water, maybe 12 -- who knows. Nothing happened in the end, the road was straight and i kept it straight, so we just came out in our lane. Wowwwwwwwwwwwwwwwwwww. Let's do that againnnnnnnnnnnnnn.

Dallas was a targeted stop. A few hundred miles out of the way, and we had to miss Montana and Wyoming because of it -- grrrrrrrrr... We met up with Chris' friends, then found a motel for the night. And then we got the trailer stuck. After almost a full circle around the motel's fenced pool, I took the last turn too sharp and U-haul scraped teh telephone pole. It didn't want to go forward, and backwards wasn't productive either -- not enough working room. "Let me inch it" -- Gloria offered. Riiiiiiiiiiiiight. She floored it. The pillar was still standing afteerwards and those U-hauls are like tanks -- they are build to withstand abuse.
---
New Mexico .. Arizona
......more soon ;-)........
#Pursue Passion#
| | | |
| --- | --- | --- |
| .First Posted: January 11, 2003. | --- | |
.my_adventures.1999-04-11-states-in-8-days
52.91.185.49