Information window - press J or ? to to open,
ESC
to close
Image Size

*

0 1 5 10 12

buttons on top of page represent photo heights of:

40px 133px 500px 1000px and 1200px

* There are 3 modes of display (

Z

) for a single photo:

1)normal, 2)background stretch, and 3)height or width stretch

Navigation - single photo

* Click mouse in left/right part of the screen

* Use +/- 5 10 20 50 buttons to skip forward/backward

* Use right/left keyboard arrow keys

* Use keyboard keys eg

N

=New Photos,

A

=Arizona
Settings window -
ESC
to close
Temagami 1-1 (Canada)

- [first draft: 2003-01-10]
1997-08-22 - 1997-08-24
| | | |
| --- | --- | --- |
| .First Posted: Jan 10, 2003. | --- | |

I found out about Temagami from my boss Rob. He loved it up there, and had a long history of visiting the magical area 5 hours north of Toronto. He was a happy owner of a new cottage, on one of the many islands right on Lake Temagami. While the area is called Temagami, Lake Temagami (the biggest lake) is only one of the thousands of lakes in the area -- some of them only accessible by carrying your boat through yards or miles of bush. Maps have the "portaging trails" identified. Unfortunately i missed the cottage get-together because i returned late from my vacation --
1997-07-29_East Coast Canada
. However, the first chance i got i was in Temagami.

Peter and I rented a canoe in Temagami, got a map too, and set out on Rabbit Lake. The lake was not wide, but the map showed its length being at least 5 miles. Neither of us knew much about canoeing, but we brought a lot of toys to play with, like water filter, propane stove, axe for wood... It was awesome -- just the two of us on the water, on a sunny day with only a breeze of a wind. We stopped at the docks and went swimming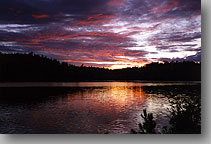 We found a very cool camping spot. A little opening in the dense bushes, a circle of rocks for fireplace, and room for tent. While setting up the tent, a curious squirrel came to visit us. The size of a chipmunk, she moved very quickly and looked for food before running off into the woods. With the sun setting we had a magnificent view.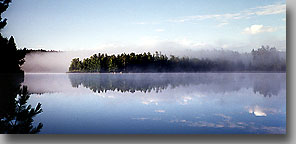 Around 7am the squirrel was back. As i found out later, she's a "red squirrel" -- a common sight in Temagami. It was nice of her to come, but she was after something we didn't want to share -- muffins. As a bear precaution, we put all our food into a bag and tied it to a tree. No it wasn't 25feet above and half-way in between trees, which is the right way to do it. Even there the curious squirrel would have gotten to it. The noise of biting through the bag and plastic muffin-container woke me up and i got out of the tent. The squirrel ran away, and i went back to sleep. Or so i thought. 10 minutes later she was back. At least this time i knew who it was. I took out my camera, and took pictures of her, then chased her away :-). I believe in keep wild animals wild -- feeding them hurts them in the long run.

It is the squirrel I have to thank for the morning fog pictures -- beautiful. Already last night's sunset was enough to show what a great place Temagami is. This was our last morning at Temagami, our short weekend trip was over. However, it was enough to inspire me to come back 3 more times that year. The next time was 2 weeks later with Peter. In October, we brought my friend from college Jason -
1997-10-10_Canoeing Temagami white-caps
.
#Pursue Passion#
| | | |
| --- | --- | --- |
| .First Posted: Jan 10, 2003. | --- | |
.my_adventures.1997-08-22-temagami-1-1
52.91.185.49