Information window - press J or ? to to open,
ESC
to close
Image Size

*

0 1 5 10 12

buttons on top of page represent photo heights of:

40px 133px 500px 1000px and 1200px

* There are 3 modes of display (

Z

) for a single photo:

1)normal, 2)background stretch, and 3)height or width stretch

Navigation - single photo

* Click mouse in left/right part of the screen

* Use +/- 5 10 20 50 buttons to skip forward/backward

* Use right/left keyboard arrow keys

* Use keyboard keys eg

N

=New Photos,

A

=Arizona
Settings window -
ESC
to close
East Coast Canada

- [first draft: 2002-12-25] - [modified: 2003-01-10]
1997/07/29 - 1997/08/20
| | | |
| --- | --- | --- |
| .First Posted: December 23, 2002. | --- | |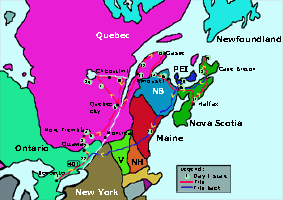 The trip that started it all. 3 weeks and 5,000 miles (8,000km) through eastern Canada, camping every night, rain or shine......... horseback riding, fellow travellers.... The idea was born in October 1996. Travel through Quebec (the french Canada) and the east coast Canada, in search of horse ranches. Maybe find a little Canadian Montana somewhere.

In July 1997, the snow just melted (in the polar circle somewhere), and at the last minute i started preparing for the big trip. Shopping. For everything. Tent, sleeping bag, stove... Vacation time came and i still wasn't ready. Finally the third tent which i brought home was acceptable. It didn't look sexy, didn't have a full fly, but it was a big and roomy tent -- an 8ft by 8ft square. ("Fly" is the outside waterproof sheet on the tent; a "full fly" reaches all the way to the ground.) Because of a concern that my 11 year old
1986 Ford Tempo
would not survive the trip, I borrowed my dad's Dodge Spirit (appropriately white for its name).
| | | | | | | |
| --- | --- | --- | --- | --- | --- | --- |
| Day 1 | | Mileage: 0mi | | Depart: 1:03pm | | Brampton, Ontario |

My first stop of the trip was after 100 miles. There was a huge, 60 feet tall apple in the middle of nowhere, bearing an appropriate name - "Big Apple". I just had to see it. Inside of the structure was a mini "museum", with interesting stuff about apples. 27 miles later i came across a hair-raising scene -- cops with speed guns. I was doing 75mph in 62.5mph (120kph in 100kph, Canada's metric ok?). Apparantly that was tolerable because i was ignored. My notes show i listened to a radio story "It is well" story from "Adventures in Odyssey". At 250mi mark, I was in Ottawa -- capital of Canada. I have been through Ottawa about 10 times, but I always just drove through without stopping to look. This time was no different.

Quebec -- the only French province of Canada, started just past Ottawa. I stayed in city of Plaisance the first night. I was next to Kurt and Heather, a couple in their mid twenties. They were from Florida and had a big Buick-like 70's car.
| | | | | | | |
| --- | --- | --- | --- | --- | --- | --- |
| Day 2 | | Mileage: 360mi (575km) | | Depart: 11am | | Plaisance, Quebec |

I spent the day hiking in Montebello, a place i knew from before. The rocky trail led into the woods, and along some wood-fenced properties. An old barn here and there, a meadow occasionally... but mostly woods. This was still before my photo days. The camera i had belonged to my parents. I still didn't know what i was missing. The vision came only after this trip, when I wasn't happy with the photos i took. With night approaching i arrived at 7pm to Lac des Plages (pronounced Luck d-ehh pl-ahhh-sh). Roger and Mark were two friendly French dudes in their thirties, from Montreal and they spoke English. Otherwise our conversation would have consisted of: "cold", "good", "where is the restroom", and "thank you". That was my spoken vocabulary at the time. I had a dictionary with me, in case i have some "spare time". Riiiiiiiiiiiiiiiiiight. Like that ever happens.
| | | | | | | |
| --- | --- | --- | --- | --- | --- | --- |
| Day 3 | | Mileage: 405mi (648km) | | Depart: 12:28pm | | Lac des Plages, Quebec |

No, i didn't get up at the crack of noon, but at 8:30am. Somehow though, it was 12:28pm when i left the camp. Darn close to Mont Tremblant -- a place I very much wanted to see. It's a famous ski slope in Quebec, and all of eastern Canada. Everything else within hundreds of miles are just little hills in comparison. While in a parking lot near downtown, i met a nice family of 3. They just returned from a bike ride. The little monster who wanted to kick my shins and beat his baseball bat on my car was Maxim. He was 4. His brother Martin, age 3, was quite different -- nice and quiet. They were both very friendly, and so was their mom. She spoke English, while the kids did not. So she translated between us. I was wearing a SPAR t-shirt that day -- the name of the aerospace company i worked for in Toronto. It turns out that the lady works for SPAR in Montreal. We talked a while, then i was invited for ice cream with the 3 of them.. i declined, but had second thoughts. Nice family. I started looking for a campground early, and found one 10 miles away, at Lac Monroe (pronounced "luck", means "lake"). "Bear Danger" signs were posted. Coool.
| | | | | | | |
| --- | --- | --- | --- | --- | --- | --- |
| Day 4 | | Mileage: 481mi (770km) | | Depart: 12:08pm | | Mont Tremblant, Quebec |

This was the day for Mont Tremblant. I love going to ski slopes in summer. Yes, summer. Winters too, of course. But in summer you still get to experience the mountain, it's just different. And you can lie down too. I heard some stories about how cold it gets at Mont Tremblant mountain in winter -- very cold. It took 30minutes to get up the hill on the ski lift. I could feel the power of the wind at the top. I had to pull out my hat too. It was an overcast day, but that's not always a bad thing. It's good to have variety of weather.

I walked down, of course, and it was an enjoyable time. I went by several ski slopes. "Vertige" looked like a killer slope, and the sign in red was right -- it did look too difficult for me. The walk downhill took me 1hour 20minutes. I left the area that night, heading more into the heart of Quebec. I camped at St. Faustin Desjardins.
| | | | | | | |
| --- | --- | --- | --- | --- | --- | --- |
| Day 5 | | Mileage: 542mi (867km) | | Depart: 3:45pm | | St. Faustin, Quebec |

Next to me camped a lady with a young girl. They came with a large team of boyscout cyclists. One boy had a bike incident a few days before. They all spoke english, because........they were from Montreal. Of course -- people from Montreal normally speak both English and French equally good. The late departure time was because of delay in the nearby "zoo". It was a fish hatchery for different kinds of trout. There was lake trout, and rainbow trout, and a few "in-between" kinds. They also had turtles, geese, rabbits and other feathered friends. The rain came along the way, first a little, then a lot. There were belts of rain coming down... my wipers were at max. At 6:40pm i was at city named Trois Rivieres ("Three Rivers"). The campground i found at 8pm didn't look attractive at all. I left the city and found a better spot 2hours later. I was 30 miles away from Quebec city.
| | | | | | | |
| --- | --- | --- | --- | --- | --- | --- |
| Day 6 | | Mileage: 788mi (1260km) | | Depart: 11:50am | | by Quebec city, Quebec |

Finally a nice city. A beautiful city. Quebec city (or just Quebec) really did have a European feeling, just like its reputation said. I parked close to a big park, and I walked downtown which was 5 minutes away. There were shops left and right. I stopped at a meat shop, and then a bakery. Then i walked in the park. It was a big beautiful park, probably the best part of the whole city. Through (418)555-1212 I tracked down California Gym on 4250 1st Ave. This was my trip's first, but not last visit of a gym with weights. The food tasted much better after the workout there, and at 8pm I was ready to keep going. The local campground closed at 8pm, but that was ok, because adventure was awaiting somewhere else... I arrived at 10pm in a campground way outside the city. During the 2 hours of driving there were no options for camping. Now i was in "Reserve Faunique des Laurentides" (loose translation: "Laurentian Flower Reserve"). I was at a campground somewhere in the mountains, because it sure felt cold. I measured 20F (-5 Celcius) at 11:30pm, just before bedtime.
| | | | | | | |
| --- | --- | --- | --- | --- | --- | --- |
| Day 7 | | Mileage: 924mi (1479km) | | Depart: 2pm | | Reserve Faunique des Laurentides, Quebec |

Wow, what a spot. The previous night i saw the "Bear Danger" signs, and i was watching for a furry buddy to step out of the bushes when i was setting up the tent. This was my first cold night ever. I used all the clothes i had, and slept in the hat. The morning was beautiful, like it always is after a cold night in summer -- sunny and sweet. That morning i got to know what black flies were. Tiny little things, thousands of them. They looked harmless until i saw blood spots on my legs. Those little suckers!!
I got close to Chicoutimi that day
| | | | | | | |
| --- | --- | --- | --- | --- | --- | --- |
| Day 8 | | Mileage: 1,079mi (1727km) | | Depart: 11:40am | | Lac St. Jean, Quebec |

My neighbors didn't speak any English at all. It was a couple with a 13 year old daughter, and she spoke very few words herself. But the 4 of us still managed to communicate. I finally put my dictionary to use. I left the tent standing that day, because the area looked interesting. There was a big lake in the neighborhood that i wanted to see. I have gone as far north as I wanted to. The map didn't show much civilization in northern regions.

At 2pm I was at a horse ranch in Saint-Gedeon. Annie and her 3 friends (or relatives maybe), were in charge of guiding horseback trail-riding. They were all around 15. None of them spoke any English at all, so that made it difficult, but we managed. The horses were running loose initially, and some of them ran for their life when the guides wanted to get them ready for the trail. Once on the trail, one of the horses was misbehaving and he ran off with one guide. But of course, i had a quiet horse.

After the ride, i went on exploring the neighbourhood, and i came across another horseback riding place -- Domaine Loterierre. This was more of riding-lessons type of place. I rode in a circle, and the lady instructor taught me how to control the horse.
| | | | | | | |
| --- | --- | --- | --- | --- | --- | --- |
| Day 9 | | Mileage: 1,210mi (1936km) | | Depart: 1:39pm | | by Chicoutimi, Quebec |

After 2 nights by Chicoutimi, I was now going east. The day sure by fast because of leaving late, and then stopping at Lake Kemagami. At 10pm I was at a new camp - L'Anse Saint Jean au Saguenay.
| | | | | | | |
| --- | --- | --- | --- | --- | --- | --- |
| Day 10 | | Mileage: 1,412mi (2259km) | | Depart: 11:35am | | L'Anse Saint Jean au Saguenay, Quebec |

I drove as far east as i could, and then turned south, looking to cross St Lawrence River. At 2:30pm I was in a car-line for St. Simeon Ferry. Within 10minutes i decided that 3 hour wait wasn't worth it, and decided to take a deatour on land instead. Since I was driving through Quebec city again, I went to go to California Gym again. I was done at 9:30pm.
| | | | | | | |
| --- | --- | --- | --- | --- | --- | --- |
| Day 11 | | Mileage: 1,648mi (2636km) | | Depart: 11:23am | | by Rimouski, Quebec |

After 100miles of driving, i saw 2 cop traps within 6miles. Both had to do with bridges. The second guy was just after the bridge, out of view... impossible to see until a car would pass him. At 3pm i stopped for some cookin. I had 2-burner propane stove with me. It saw use in Mont Tremblant once, but not since then. I stopped at a picnic spot, and cooked chopped-up beef in water and rice. At 5:30pm I was in Rimouski. I found a horse ranch very soon. I got on top of Vagabound, a 24 year old stallion. I had a lesson, riding in a circle again. Afterwards we went for a little tour of the property on horseback. My guide was an older gentleman, who spoke perfect English. I camped at Trois Pistoles that night.
| | | | | | | |
| --- | --- | --- | --- | --- | --- | --- |
| Day 12 | | Mileage: 1,906mi (3050km) | | Depart: 10:45am | | by Trois Pistoles, Quebec |

Ralph and Leanore were from British Columbia. They have been travelling since April. They started in Vancouver and drove down to Arizona in 24 hours. In the following weeks they drove through western states and east through Canadian prairies. They had some mosquito stories from the prairies. As they travelled, they kept an up-to-date account of their travels on a website. I still have the name written down somewhere, on the cover of a map. Their plan was to keep going until the money ran out.

I was listening to a radio story about a lady named Geraldine Howill, who delivered newspapers for 39 years. She just retired recently. She delivered 6 days a week in West Virginia, starting every night at 10pm (except Sundays). It took her 9.5 hours to deliver the newspapers. In total she drove 238miles each day. Now that's a tough job.
| | | | | | | |
| --- | --- | --- | --- | --- | --- | --- |
| Day 13 | | Mileage: 2,198mi (3517km) | | Depart: 10:30am | | by Gaspe, Quebec |

The previous day i made reservations for horseback riding near Gaspe. It was right on the beach and it was awesome. We gallopped in the shallow water, splashing everywhere. There was no-one else there, just the guide and me. At one point i got too close, and i was tasting sand in my mouth. My horse didn't need much encouragement, he liked to gallop. Afterwards i noticed that I lost my sunglasses. I went back and looked on foot...... and found them washed out close to shore.

After Gaspe, the road turned south again. I had come up the west shore, and after Gaspe I was driving down the east shore of the St. Lawrence River. 100miles after Gaspe, the rocky cliffs started to appear. I was no longer near the sea level, as on the west shore. I entered the province of New Brunswick that day. I slept in Blue Heron campground in Charlottetown (a big city). At 10:30pm the place looked like a ghost-town.
| | | | | | | |
| --- | --- | --- | --- | --- | --- | --- |
| Day 14 | | Mileage: 2,514mi (4023km) | | Depart: 10:20am | | Charlottetown, New Brunswick |

Laundry and oil change, and gym visit too. Those were the activities of my day. A trip a long enough to need an oil change."Frank's Gym" was so small it didn't even have showers. I had to sneak into a campground in Dalhousie for shower. At 8pm I was ready to go on. With the darkness the rain started. And then the rain changed into a storm. My wipers were working at max, and still it was just barely enough. There was a lot of water on the road, and it wasn't clear where the median was. At 11pm i decided for a motel. It was a tough choice, but my surroundings were mostly cities.
| | | | | | | |
| --- | --- | --- | --- | --- | --- | --- |
| Day 15 | | Mileage: 2,639mi (4223km) | | Depart: 10:40am | | Bathurst, New Brunswick |

Kouchibouguac ("Koo-chi-boo-quack") was a park recommended to me by a girl at Tourist Information in Gaspe. There I saw sands dunes and miles of shore.

At 8:13pm I was in the province of Nova Scotia. In the campground I met Rick and Nancy from Ottawa. They had a motorhome. Along with their 2 kids, they were travelling for 2 weeks in Nova Scotia. The wind was blowing at night, and i setup my tent so that the wind coming from the ocean was blocked by their motorhome. By the time i woke up in the morning, they were gone -- They left early, just like they said they would.
| | | | | | | |
| --- | --- | --- | --- | --- | --- | --- |
| Day 16 | | Mileage: 2,882mi (4611km) | | Depart: 10:40am | | start of Nova Scotia |

I was up at 7:30am and walked on the beach. For lunch I stopped in Wallace. I found a lobster hut at the end of the pier (by the red truck in the picture). I didn't just stumble upon it, Rick and Nancy recommended that sport specifically. There were hundreds of lobsters inside, big and small, and all of them alive in water tanks. I picked one, and 20 minutes later he was done. Peggy's Cove was another place recommended by Rick and Nancy. I arrived there at 7pm. A bunch of rocks with a lighthouse, but more than that. It really was nice.

| | | | | | | |
| --- | --- | --- | --- | --- | --- | --- |
| Day 17 | | Mileage: 3,118mi (4989km) | | Depart: 10:40am | | by Peggy's Cove, Nova Scotia |

I awoke to the sound of rain. With time running out since i entered Nova Scotia, i decided to skip the south regions and head for Cape Breton peninsula in the northeast. Just after entering Cape Breton at 4:40pm, i found myself behind a motorhome with German plates. Wow. Is that really a german car? Back in Quebec, near Lac Des Plages, they had fake California plates -- but that was on the front -- only their rear plates had to be real. But this was different. When they turned off the road, i followed them. I started talking to them, and yupppppp... they were from Germany alright. For the past 5 months they have been travelling from Jacksonville, Florida. They were a retired couple and planned out a year-long North America vacation.

It cost them $7,500 and 3 weeks time to have their little camper brought over from Germany by ship. To rent a motorhome in US would cost about $30,000 per year. They invited me inside their motorhome. There was a table to sit behind, and a sink too. The twin bed was above the driver's seat. They even had a fridge. Their diesel Mercedes had a 35ga(135L) gas tank, which let them make 450mi(730km). That came in handy for them in Yukon, where the highway went on for 300miles(500km) without a gas station. They had 2 water-tanks -- 23ga(90L) and 59ga(230L). The refrigerator was solar powered. The stove was propane powered.

The show on the radio talked about "Louis and Clarke". Those guys travelled for 836 days and had 600 camps. Somewhere i read how much stuff they carried, and that they ate dogs which they bought from locals.
| | | | | | | |
| --- | --- | --- | --- | --- | --- | --- |
| Day 18 | | Mileage: 3,398mi (5436km) | | Depart: 12:23pm | | Mac Leod's Beach & Campsite, Nova Scotia |

I was up at 6:30am. I walked along the beautiful beach. Back at the campground, i started talking to Bob. He had a black dalmation named Max, who liked to munch on grass. For upset stomach, of course. I was curious about Bob's RV, so he told me: 27ft long, 80 gallon (311L) water tank, 50 gallon (200L) waste tank. He and his wife took that camper to Alaska, Banff, Jasper and Rockies... Bob highly recommended places for wildlife and nature. They were from New Hamshire, and this was their favorite campground in Cape Breton.

I kept driving along the north shore. I had the ocean to my left for a long time, but then the road turned inland. In the evening, I passed through a small town and then the road started to rise. And rise and rise some more. From the highest points of the road the views were very nice, however it started to rain and i passed on pictures. At 9:30pm I arrived in a campground at the far end of Cape Breton. It must have been real close to the end of the island.
| | | | | | | |
| --- | --- | --- | --- | --- | --- | --- |
| Day 19 | | Mileage: 3,564mi (5702km) | | Depart: 11:20am | | by Port Hastings, Nova Scotia |

The time has come to head home, 1,500 miles away. I saw several nice spots along the way, but i had no time to stop. I just marked them down as "worth seeing one day". Instead of returning the way i came, i decided to take a shortcut through 4 states. I'd rather drive through new places anyway. And it's more scenic if the highway is not too major -- like Interstate-2 was. And i'd get to see at least a tiny bit of New Hamshire and Vermont -- the ski states. Prince Edward Island had a new 8mile long bridge completed just recently. Before, the only way to get there from mainland was with a ferry. When I got close to PEI, i decided to just do it. Why not? I'll make up the time tomorrow. At 8pm I was at Amherst, and i turned towards PEI.

At 3,907mi (6251km) I headed on the bridge to PEI. Unfortunately, i couldn't see anything from the bridge, and there was no stopping. It was just one lane each way, and no pullouts. It was a boring bridge. The side barriers were too high to see anything (and drive safely). I found a camp sometime around 10pm.
| | | | | | | |
| --- | --- | --- | --- | --- | --- | --- |
| Day 20 | | Mileage: 3,957mi (6331km) | | Depart: 10:51am | | Cumberland Cove Camp, Prince Edward Island |

The campground was very nice. Right along the beach. The sea was quiet, unlike the gusting winds of Nova Scotia when i camped behind a motorhome and staked the tent down so it wouldn't fly away. I marked the campground in my notes as "come back". I measured the bridge length to be 8miles (12.8km).

I went by New Brunswick cities of Moncton, St. John's and St. Stephen. At 8pm i was in Maine. I drove as long as i could and stopped at 10:27pm in a KOA campground.
| | | | | | | |
| --- | --- | --- | --- | --- | --- | --- |
| Day 21 | | Mileage: 4,403mi (7044km) | | Depart: 11am | | KOA Kamping, Maine |

I was in Maine. I still had New Hamshire, Vermont and New York ahead, before Ontario. At 2pm i ented New Hamshire. And then there was the magical sign. "Mt. Washington" - Interstate 16. Mmmmmmmmmm. I had to turn. It didn't matter how far it was (which the sign didn't say), i just had to get a little bit closer to Mt. Washington. Even if i don't make it all the way over there. Only a few minutes along I-16, i saw a beautiful creek along the right side. It was beautiful and ideal for pictures.

I was already 2 days late for work, and I was hoping to reach Toronto that night. At 10:41pm I saw a sign "Toronto 421km" (263 miles). The smart thing to do was sleep at night, and worry about things in the morning. I like doing smart things.
| | | | | | | |
| --- | --- | --- | --- | --- | --- | --- |
| Day 22 | | Mileage: 4,929mi (7887km) | | Depart: 11am | | Brockville, Ontario |

It wasn't really a campground. It was a trailer park for parking RVs whole year round. I was too wasted to care, and it wasn't quite like tenting in someone's front yard. Even though it looked that way. No-one answered my knocking at 11pm, so i left them a little hello note.

At 3:45pm, after 21 days and 5,165 miles (8264km) I arrived home, and headed for work. Was it enough? No. It was the start of my travels. It was an inspiring trip with a preview of what's out there -- the beautiful and interesting places which await the traveler. My next adventure was 2 days later --
1997-08-22_Temagami 1-1
with Peter.
#Pursue Passion#
| | | |
| --- | --- | --- |
| .First Posted: December 23, 2002. | --- | |
Notes:
• All $ figures are in US $. Metric Conversions can be done with:

Metric Conversions
• first draft (2002/12/25) - modified 2003/01/10
.my_adventures.1997-07-29-east-coast-canada
52.91.185.49