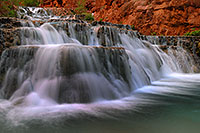 Beaver Falls
Hiking: - 11 mile, 2,155 ft descend - into a canyon from Hualapai Hilltop (elev 5,194 ft)

From the bottom of

Mooney Falls

, follow a trail heading up (then down) for 15minutes before getting to the

1st creek crossing

. The

2nd creek crossing

is only 3 minutes away, has a tied swing rope, and is great for swimming or photos. The

3rd creek crossing

is over a mile away, in 2 parts (it is shallower if you cross initially 30 yards sooner). After a "rock entrance" and a ladder upwards, you will be 100 ft above the creek, pass

Beaver Falls

and after passing "

Leaving Grand Canyon, entering Havasupai Tribal Lands

" sign, you will follow a trail some 50 yards later where the step dropoff becomes 25 ft.